The collection of delicate and luxurious jewelry is never too much for a woman. They are always in pursuit of more and more jewelry… we get it. And that is why we will be reviewing today a very famed jewelry brand, 'Gnoce Jewelry.' 
So let's see what it is all about!
About Gnoce Jewelry
Gnoce Jewelry is a premium jewelry brand that is known for manufacturing unique and delicate jewelry at competitive prices. They also deal in personalized jewelry, charms, etc. 
Gnoce jewelry is known the world over for its innovative designs and high-quality jewelry. Their team is based of highly skilled artisans, designers, and handicraftsmen. These skilled people successfully meet the aims of Gnoce Jewelry to produce exquisite designs and unparalleled quality. 
Moreover, you can also find selective beads and charms for yourself and create jewelry that is specific to you only. Based in New York, Gnoce Jewelry serves many customers worldwide.
Pricing
Gnoce Jewelry claims to offer competitive market prices to its customers. Well, let's have a general review of their price range to see if the company lives up to its claims.
First, let's have a look at a few bracelets. The starting range of bracelets at Gnoce Jewelry is $20 and above. At the same time, the most costly bracelet with embellished rubies retails for $205, with an occasional sale that drops the price up to $95. 

See price on Gnoce
Now let's move on to everyone's favorite category, 'Rings.' The price range for their rings is quite diverse, with sterling silver rings ranging from $43 to $129. For example, this Round Cut Stone Ring retails for $115 and is on sale for $51.95. You can also find a few beautiful Promise rings, such as this Princess Crown Ring, for 81 bucks only. 
The Men's section doesn't have a diverse range of variety of items. You can find charms, bracelets, and earrings within a price range of $16 to $149. 
Also, the gifts section will help you a lot if you're looking for Halloween, Easter, Birthday, or Anniversary Gifts. If you're looking for super affordable gifts, Gnoce Jewelry is the answer. You can easily find some nice stuff under $300 … well, mostly at a 100 dollar only!
All in all, the prices at Gnoce Jewelry are not really a big deal. Very average-priced items, justified enough by the quality; therefore, I don't have any reservations regarding their prices!
Website Navigation
The website of Gnoce Jewelry is simple and user-friendly. The home page is well-formed and well organized, which is why it is very welcoming for even first-time visitors. You can shop By Category, such as New Arrivals, Charms, Bracelets, Necklaces, etc. 
Or even Shop by Collection such as Foodie Collection or Skull Be Bold, etc. In addition to this, you'll find a few Best of Gnoce items present on the home page as well.
Next, let's discuss browsing and navigation at Gnoce Jewelry's website. The navigation menu is located at the top of the website and features options such as Personalized, Charms, Bracelets, Earrings, Gifts, Sale, as well as a Men's category.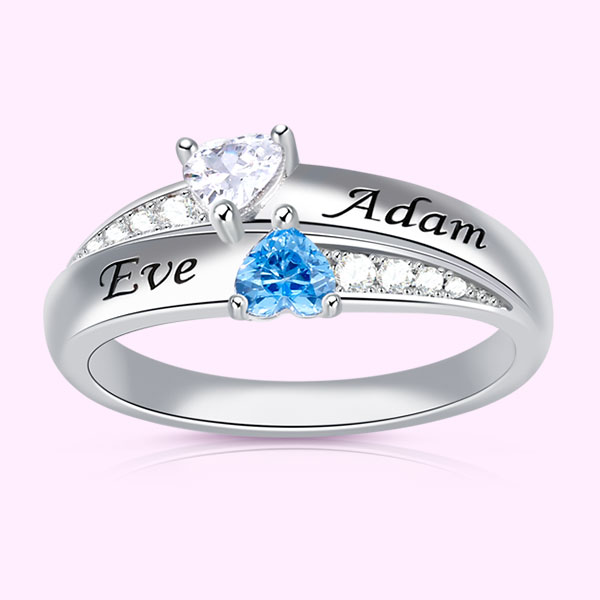 View Price Of This Personalized Ring on Gnoce
All of these categories have further subdivisions. For instance, if you're looking to buy a bracelet, you can specify the type of bracelets you want, such as a basic bracelet, tennis bracelet, charm bracelet, or fashion bracelet. 
Similarly, necklaces are classified into chokers, fashion necklaces, or basic chains. 
We believe that shopping at a website that offers an apt amount of filters is way more convenient than anything otherwise. And gladly, Gnoce Jewelry has just the right amount and types of filters for each of their categories.
You can filter out irrelevant stuff and direct your search in accordance with the price range, Plating Color, Material, and of course, the type of jewelry you want from a certain category. Moreover, you'll find precise details about each product. 
Conclusively, I'd say that Gnoce Jewelry has a very convenient and user-friendly interface. Browsing and shopping at their online store shouldn't be a problem for anyone!
Store Location
It shouldn't come off as a surprise to you if I say Gnoce jewelry doesn't have any retail store. Most businesses these days prefer an online store only, and the same is the case with Gnoce Jewelry.
Their headquarters are located in New York but have no physical store anywhere else. The only place you can shop from them is their online store which is super convenient, by the way.
This is probably done to cut the extra costs of physical storefronts, which I think is quite justified if the business is focusing on its online services. 
Anyway, now you know where to visit if you need exquisite jewelry at your doorstep!
Quality
Gnoce Jewelry is a brand that can be trusted; at least, that's what we've seen in the majority of the reviews online. Most of the customers are satisfied with the quality and prices at Gnoce. 
The charms by Gnoce Jewelry are genuinely loved by a huge chunk of people worldwide. The amazing detailing in each of their items is laudable.
Authentic 925 SS
The sterling silver used in their jewelry is authentic 925 sterling silver that helps the jewelry retain its appearance and quality over the years. Most items embellished with Cubic Zirconia or gemstones are also worth appreciating. 
Quality Tests
A rigorous quality testing is done for each item after manufacturing, so it is very unlikely that you'll make return claims due to any manufacturing defect. 
Warranty
In addition, Gnoce Jewelry stands behind all its items and offers a 1-year warranty. They ensure high quality and meticulous crafting. In case your item turns faulty under one year, you can easily reach out to them and file your warranty claims. 
Overall, the quality of items at Gnoce Jewelry is pretty basic and average. And it's not something bad because, honestly, I don't expect more than what they offer at the given price ranges. 
Delivery
Locations
Gnoce Jewelry, thankfully, doesn't have limited delivery locations. They happily serve all their customers worldwide. They offer standard shipping, as well as DHL and UPS expedited shipping.
However, shipping to PO Boxes and military addresses is not possible with DHL and UPS. It can be done only through standard shipping service.
Charges
Gnoce Jewelry offers free standard shipping for orders above $69 for deliveries within UK or USA. Other than that, a $7.99 delivery is charged if your order is below $69. 
For international shipping charges according to your country and details about the expedited shipping, visit here.
Return Policy
A very flexible return policy is offered by Gnoce Jewelry. It is different from the standard 30-day return period offered by most online stores. 
They offer a 60-day return period. You can return your purchase if you're not fully satisfied with it. Just follow the given return procedure here to process and claim your returns/exchanges/ refunds. 
However, make sure that the items you're returning are in their original and unworn condition. They must be returned along with the jewelry tag. Personalized items or not refundable at any cost. 
Shipping charges will be deducted from the refund amount, and refunds are typically processed within five business days.
Customer Service
Gnoce Jewelry claims to offer excellent customer service. They will happily address all your concerns, questions, and queries. 
In case you want to get in touch, just hit them up at their email [email protected].
Or else you can also contact them through call. Get in touch @ 1-877-716-5888 during 10:00 AM – 1:00 PM & 2:00 PM – 4:30 PM, Monday – Sunday (PST/PDT)
Gnoce Jewelry Customer Reviews
Well, you've gone through everything I had to say about Gnoce Jewelry (I hope so), but I guess you'll be interested in the reviews of actual customers from over the world. So you can check out a few of them below.
The first one is from a very satisfied customer (source):
The next one is not the best review, but overall the buyer seems satisfied
Perhaps, they actually need to work on their deliveries and shipping time
The internet is filled with a dozen more reviews like this. And from that, we can conclude the fact that Gnoce Jewelry is doing a pretty good job at meeting the expectations of their customers.
Conclusion
Based on our judgment, we'd say that Gnoce Jewelry is worth a shot. It's definitely not a scam. Their online store offers a very convenient shopping experience. The prices are not sky high, and the quality is just in line with the prices. Their customer service is also very responsive, so you don't have to fret over complaints or concerns as well. 
So go and check out what they have in store for ya!
Related Brand Reviews